DESIGNER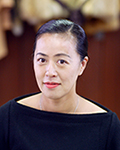 東京都生まれ。
1993年、株式会社 オールウェイズを設立。数々の企業ブランドの企画、海外デザイナーのコンサルティングを担当。
2004年、オートクチュール、セミオーダーをメインとしたMIKAKO NAKAMURA(ミカコ ナカムラ)を発表。「less is more」の精神で生み出される服は、シンプルでありながらも印象的。着る人をモードに美しく演出する。
2008年、カジュアルラインM・Filを発表。
2012年、両ブランドを取り扱う旗艦店「MIKAKO NAKAMURA 南青山サロン」をオープン。
Born in Tokyo.
In 1993, established Always Co., Ltd. Was in charge of planning and designing for a number of corporate brands, as well as consulting for overseas designers.
In 2004, launched MIKAKO NAKAMURA featuring haute couture and semi-custom-made clothing. The clothes created with the spirit of "less is more" are simple yet arresting. They highlight the wearers beautifully in the absolute mode.
In 2008, launched casual line M・Fil.
In 2012, opened flagship store "MIKAKO NAKAMURA Minami-Aoyama Salon" that has both brands.
デザインしないことが私のデザイン
「本当に美しいものはデザインされていない自然のもの」と考え、無駄を削ぎ落としたシンプルな洋服は、お召しになる方の個性を最大限に引き出します。
原点は素材作り
良い素材を使った服は、良い材料を使った料理と同じです。旬の素材は少ない調味料で美味しく仕上がります。その時一番お召しいただきたい素材を、シンプルに服に仕上げます。
捨てる服はもう要らない
量産や効率とは一線を画し、最高の技術を持つアトリエで、一点ずつ丁寧にお作りしています。上質で愛着のある服。それはお客様が大切な日にお召しになり、思い出の一ページに残るような一着。お母様からお嬢様へと受け継がれる服でありたいと考えます。
Not to design is my way to design
The idea is "true beauty is in natural things not designed" - simple clothes that removed elaborate designs draw out the wearer's character and charm to the greatest effect.
The point of origin is in creating fabrics
Clothes using high quality fabrics are like meals cooked with great ingredients. Seasonal foods are tasty with a hint of seasoning. We create the clothes in a simple way using the best fabrics that I want the customers to wear at the time.
I don't want fashion go to waste
Drawing a clear line from mass production and efficiency, we make each piece with the highest skills at our atelier. High-quality clothes with love are very special items that are worn by our customers on important days, and would remain in a page with happy memories. We hope they would be handed down from mother to daughter for generations.